The Finnish sauna is a traditional sauna variant which, at a temperature of around 90 degrees Celsius, helps purify and detoxify your body, stimulates blood circulation and strengthens the immune system. You can feel the warmth that slowly spreads and releases the long-awaited relaxation. With the scent of eucalyptus and warm wood, you can relax in your own world of serenity for a few hours. When visiting the sauna, the body temperature rises to 39 degrees. The skin surface warms by three to ten degrees. The breathing rate increases and the muscles relax. When you open the door to our organic herbal sauna, you will be greeted with the scent of fresh herbs, which will also take effect after a few relaxing minutes.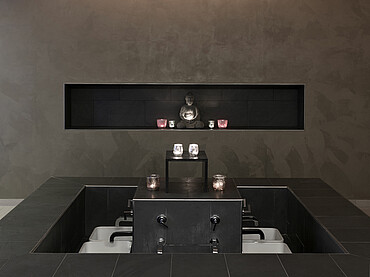 The all-round talent "steam bath" not only cleanses and strengthens stressed airways and improves circulation, but also makes the skin soft and relieves painful muscle tension. Your wellness day is a complete success: Finnish sauna, organic herbal sauna and steam bath are not competitors, they complement each other perfectly and make a harmonious day in our MAVIDA Spa an unforgettable experience.
Nothing advances our way more than a break.
Elizabeth Barrett Browining